Slide valves / Butterfly Valves
Description
VL-type Slide Valves consist of a two piece carbon or stainless steel frame, which is partly coated with WAM®¿s unique SINT® engineering polymer composite, and a sliding blade manufactured either in the same material or in carbon or stainless steel. The use of SINT® engineering polymer composites considerably increases resistance to abrasion compared to traditional valves. In the VLQ version the valves have square, in the VLC version a circular opening. The VLS version with square opening has pneumatic actuator integrated in the frame.
Function
VL Slides Valves are used where flow of a bulk solid caused by gravity or transport has to be intercepted. Valves may be fitted to hopper or silo outlets, to the inlets and outlets of mechanical conveyors and to the inlet of telescopic loading spouts. For the outlets of conveyors in particular, the VLS version with integrated pneumatic actuator is a valid option due to ist compact overall dimensions. The special geometry of the VL Slide Gate Valves and the different options of blade design enable their application in virtually every sector including the food industry.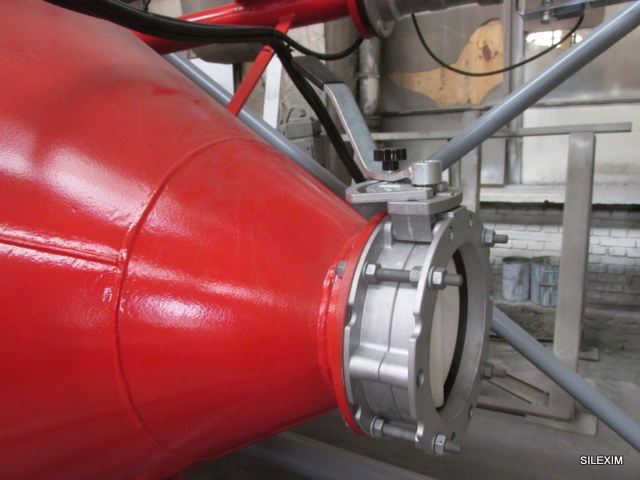 Description
VFS Butterfly Valves consist of two high-pressure die-cast semi-bodies manufactured from aluminium alloy, a swivel disc in SINT® polymer composite or cast iron, and a pre-stressed elastomer seal. For the food industry a version with stainless steel disc and an FDA-approved integral seal is available. While V1FS has a top flange and a beaded bottom section suitable for the attachment of a flexible sleeve, the V2FS comes with an identical top and bottom flange.
Function
For closing bins, hoppers and silos containing powders or granular materials, VFS Butterfly Valves are among the most widely used equipment worldwide. What used to be custom-built items for specific applications, have been turned by WAM® into a mass-produced industrial product with features that allow extremely versatile use. VFS Butterfly Valves are used in all types of powder and granular material processing plants where interception of gravity-fed or pneumatically conveyed dry materials is required. They are fitted beneath hoppers, bins, silos, screw or other type conveyors, or to intercept pneumatic conveying ducts. Due to their special design and to the engineering materials used, they represent a particularly cost-effective yet most efficient solution.